ONLINE REAL ESTATE AUCTION
This property consists of 2 residences on approximately 6 acres with several outbuildings. Zoned R-1 Property Selling AS IS!
Date: To Be Determined
for The Estate of Lucius B. Dabney, Jr.
56 and 108 Dabney Drive, Vicksburg, MS
Address: 56 Dabney Drive, Vicksburg, MS 39180 -Parcel # 1101-04-1330-002700
1930's two-story home, approximately 2839 sq. ft, 9 rooms, 4 bedrooms, 1 bathroom Selling AS IS! The property has been unoccupied for several years! Home needs TLC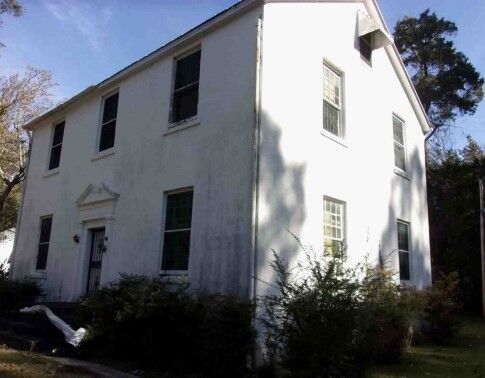 Address: 108 Dabney Drive, Vicksburg, MS 39180 -Parcel # 1101 04 1330 002900
1960's one story with upper-level home, approximately 2,936 sq. ft, 8 rooms, 4 bedrooms, 2 baths, central heat and air, 2 car carport, pool, Fireplace, patio/deck, fence, porch, SELLING AS IS, Home needs TLC
Terms: 10% Buyer's Premium. Please review the complete terms and documents noted above.
The information above is obtained from the seller & third-party sources & is assumed to be reliable but has not been independently verified.
INSPECTION BY APPOINTMENT ONLY AND ON CERTAIN DATES!
Broker Participation welcome. Brokers, please call for more information.
Call 662.226.2080
PROPERTY IS OFFERED UNDER THE SPECIFIC TERMS PROVIDED. PLEASE READ AND REVIEW THE TERMS THOROUGHLY BEFORE BIDDING ON ANY PROPERTY.
Following your review of these terms, do not bid if you do not agree or accept. By placing a bid, you are accepting the terms of this auction and will be held to the terms as they are presented and updated. These terms create a legally binding contract between you and Taylor Auction & Realty, Inc. Documents presented on the website are a part of the terms. Terms are per the seller. Bids cannot be canceled.
This online auction is set for automatic approval. You may register for the auction and download any documents regarding this auction. However, before you bid, please print from the Documents Section a Working with a Real Estate Broker. After printing and reviewing, please acknowledge your acknowledgment of non-representation by your signature above the Customer line.
Before you place a bid on the property, please print, sign, and return to our office the Property Condition Disclosure Form, page 7 of the PROPERTY CONDITION DISCLOSURE STATEMENT, acknowledging your review and receipt of the PCDS Statement. Please email
[email protected]
or fax to 1.662.227.1653. If you need assistance with these forms, please call us at 1.662.226.2080.
Taylor Auction & Realty, Inc. has put forth every effort in preparing the catalog for this auction to provide an accurate description of the property. The property is sold as-is with no warranty written or implied by Taylor Auction & Realty, Inc. The following information is provided to you as a matter of convenience only, and no representation or warranty, expressed or implied, is made as to its accuracy or completeness by the auctioneer. All information obtained came from the seller or third-party sources.
You are encouraged to inspect the property you wish to purchase before THE ONLINE AUCTION. No sale will be contingent upon a property inspection by the successful bidder after the auction, or is the sale contingent upon the Buyer obtaining financing! You are expected to pre-qualify yourself with a lender before the auction. Printed statements or descriptions by staff or the seller are provided in good faith and are matters of opinion. Bidders must conduct and rely solely upon their investigations and inspection regarding the condition and feasibility of the bidder's intended use. The real property is being sold AS IS with any faults. Please review all information supplied and seek appropriate assistance before bidding at the auction.
Inspection: Please call our office at 662.226.2080
BIDDER REGISTRATION:
For us to have enough time to conduct authorizations, you are encouraged to register and bid early. Waiting till the last minute to register and/or become comfortable with the system could negatively affect your bidding. We encourage you to register at least 24 hours before the auction.
To better serve our customers, all bidders must provide their name, address, daytime phone number or cell number, and email address at which they can be contacted. This ensures good communication between Taylor Auction & Realty, Inc. and the bidder throughout transactions. Each bidder's identity will be verified. Bidding rights are provisional; if complete verification is impossible, Taylor Auction & Realty, Inc. will reject the registration, and bidding activity will be terminated.
BIDDING PROCEDURES:
Online auctions move quickly! If you are interested in bidding, bid quickly, especially at the close of bidding time. The bidding software will notify bidders by email or text when they have been outbid. Bidders may also discover if they have been outbid by refreshing the individual lot information or the entire screen. Due to varying internet connection speeds, please place a max bid or constantly monitor the auction at the close of bidding. Sometimes, email or text notifications can be delayed. If you win, you will be notified by email.
AUCTION END TIMES:
All online-only real estate auctions are timed events subject to auto extension. Online Auctions have an auto extend feature of 5 minutes. For any bid placed in the final 5 minutes of an auction, the auction ending time will be automatically extended 5 minutes from when the bid was placed. The auto-extend feature remains active until no further bids are received within 5 minutes. At the close of the auction, all bidders are encouraged to watch the catalog in case it goes into extension. All lot(s) will remain open during the extension period.
Reserve Statement: A reserve not met statement is placed on lots with a reserve. When the reserve is met, the statement will disappear. After the auction closes, bidders may call the office to request the reserve, and negotiations can be discussed.
Offering: The real estate is offered as a whole.
A 10 % Buyer's Premium will be added to your final bid to equal the contract price. The hammer bid and the buyer's premium establish the final price.
Buyer's Premium example:
Bid price ($100,000.00) + 10% Buyer's Premium ($ 10,000.00) = Total Contract price ($ 110,000.00)
BUYER'S PREMIUM: Purchaser agrees to pay a premium of 10% of the bid price upon closing, equal to the agreed upon commission between Seller, Agent, and Purchaser. Purchaser recognizes and agrees that the 10% premium paid as commission in this transaction does not constitute purchaser representation
CLOSING TIME:
Time being of the essence, this contract shall be closed as soon as possible within 30 days. The seller will pay for the preparation of the deed of conveyance and prior real estate taxes past due. All other closing costs, i.e. survey fees, title work, and other fees associated with the closing, are the buyer's responsibility.
CLOSING LOCATION AGENT:
Closing agent/location will be provided no later than ten (10) days after the auction date.
TAXES:
2023 Taxes will be prorated to the day of closing. The seller will pay any prior year taxes.
POSSESSION:
Purchaser shall receive possession of the property at closing.
ACREAGE AND AERIAL PHOTOS: Parcel Dimensions and acreages are based on legal descriptions but are not guaranteed.
BIDDER BROKER PARTICIPATION: A Bidder Broker Participation Form is available if you use a broker for bidding assistance. Please call our office for the form.
RESTRICTIONS:
Property restrictions are subject to all Specific City, County, and State of Mississippi laws, ordinances, and regulations. The property is selling to all easements of record. The owner warrants that they have good merchantable title to the real estate and will convey the same with a deed, free from all encumbrances, liens, or judgments at closing.
SPECIAL INSTRUCTIONS:
Any special instructions must be written on the sales contract today. Complete terms and conditions will be provided before auction day and specified within the Contract for the Sale and Purchase of Real Estate showcased in the Documents section of the project.
AUCTION CONTRACTS:
At the close of the auction, if the seller accepts the bid, the bidders will be emailed a contract to be executed and returned to Taylor Auction & Realty, Inc. Successful bidders will deposit 10% of the contract price per property in the form of cashier's check or wire transfer to Taylor Auction & Realty, Inc. within 24 hours of contract ratification by the seller. The entirety of the remaining balance is due at closing. The purchaser will be responsible for all wire transfer fees. You will be closing on the property on which you are the successful bidder in the final manner you bid at the auction.
AUCTION BID DEFAULT:
A successful bidder not executing and returning the contract with an earnest money deposit within 24 hours of the conclusion of the auction will be considered in default. If a winning bidder fails to submit the signed Contract for the Sale and Purchase of Real Estate and 10% of the High Bid Price in earnest money deposit, the winning bidder will be charged a penalty fee of $1,000.00 on the credit card provided at auction registration. Additional default remedies are reserved by Taylor Auction & Realty, Inc. and the Seller as provided in the Auction Terms and Conditions and the Contract for Sale of Real Estate. Taylor Auction & Realty, Inc. reserves the right to sell to the second-highest bidder if the successful high bidder does not comply with the terms of the sale.
LIQUIDATED DAMAGES:
If the buyer does not close within the stated time on the contract and the seller has not granted a written extension, the buyer will forfeit all of the 10% escrow deposit. If such action occurs, Taylor Auction & Realty, Inc. hereby has the right to disperse the deposit as stated in the listing agreement, and the buyer has no claims to such money or property being sold. Liquidated damages are to cover the cost of the auction, cost incurred by the seller, labor cost, and additional cost of the auction as not defined in this agreement.
Taylor Auction & Realty, Inc.'s INVOLVEMENT IN THIS CONTRACT:
Taylor Auction & Realty, Inc. is the seller's agent, and their fiduciary duties of loyalty and faithfulness are owed to their client (the seller). Taylor Auction & Realty, Inc. is not a buyer's agent. TAR reserves the right to remove or cancel the bids and/or bidding rights and privileges of any party deemed not to be in the seller's best interest at any time. Taylor Auction & Realty, Inc. reserves the right to cancel the auction at any time. The seller and buyer hereby agree that Taylor Auction & Realty, Inc. is a part of this contract and shall receive compensation as stated in the agreement hereto or as stated in the listing agreement hereby made a part of. Auctioneer has the right to sell this Property in any form or fashion that is legal and ethical to produce the best offer to the Seller.
BROWSER INFORMATION: Google Chrome and Mozilla Firefox are the preferred Internet Browser for our bidding platforms. Because Microsoft is phasing out support for Internet Explorer 8, 9, and 10, bidders are more likely to have issues with Internet Explorer when using our website.
SERVER AND SOFTWARE TECHNICAL ISSUES:
If there are technical difficulties related to the server, software, or any other online auction-related technologies, Taylor Auction & Realty, Inc. reserves the right to lower the starting bids, extend, continue, or close the bidding. NEITHER THE COMPANY PROVIDING THE SOFTWARE nor Taylor Auction & Realty, Inc. SHALL BE HELD RESPONSIBLE FOR A MISSED BID OR THE FAILURE OF THE SOFTWARE TO FUNCTION PROPERLY FOR ANY REASON. Email notifications will be sent to registered bidders with updated information as deemed necessary by Taylor Auction & Realty, Inc.
Hold Harmless: Buyer and or bidder agrees that Taylor Auction and Realty, Inc. is a representative of the Seller and agrees to hold harmless and indemnify Taylor Auction & Realty, Inc. and its Agents, Owner, Directors, Employees, and its Representatives from any claims, demands, expenses, damages which bidder/buyer may claim on account of or any way growing out of said auction and to look solely to the Seller for any remedy demanded.
SOLE AND EXCLUSIVE VENUE & JURISDICTION OF ALL DISPUTES: Any claims, including debt collection and all other disputes of any kind, nature, or character whatsoever arising from this auction sale shall be brought in the appropriate court of Grenada County, Mississippi, and shall be governed by the laws of the State of Mississippi; Seller, Bidder and Buyer each individually and collectively by participating in the Auction conducted by Taylor Auction and Realty, Inc. do hereby irrevocably agree to submit themselves and any claims to the jurisdiction and venue of the courts of Grenada County, Mississippi, and the laws of the State of Mississippi, which shall be the sole venue and jurisdiction for the resolution of any claims between them and Taylor Auction and Realty, Inc. regardless of the nature or location of the property sold/purchased or the physical location of the Auction.
Bidder Acknowledgment: Bidder acknowledges that no relationship of any nature or type, agent, employee, independent contractor, or otherwise is created between bidder and auctioneer, affiliated auction companies, affiliated software companies, and/or any servant, agent or employee of the same by bidder's participation in this auction. The bidder acknowledges and agrees that Auctioneer is acting solely as the agent for the seller in this auction. Disclaimer of warranties: There are no understandings, agreements, representations, or warranties, express or implied not specified herein, respecting this contract or the item or property sold hereunder, including but not limited to the merchantability or fitness for a particular purpose.
Bidder Responsibilities: Bidder responsibilities include, but are not limited to: Bidders agree to keep their username and password confidential, as they are responsible for any activity involving their account. When using the website, you must obey local state, and federal laws. Violations will result in the termination of website use privileges. Auction company employees and/or Auction Company may bid on auction for absentee bidders or at the direction of interested bidders.
Guaranty Agreement regarding bidding for a business entity: By submitting a bid in the name of a business entity or corporation, the individual submitting the bid enters into a guaranty agreement whereby he or she guarantees earnest money payment to Taylor Auction & Realty, Inc. and completion of the transaction.
Reasonable Accommodation: Taylor Auction & Realty, Inc. is an employer and professional service organization with no intention to discriminate based on disability or other legally prohibited basis. We are an affirmative action, equal opportunity employer and service provider. Our decisions are made without regard to race, color, religion, sex, disability, sexual orientation, gender identity, national origin, veteran status, or genetic information. Accommodations are made regarding hiring employees or assisting clients or customers regarding our services unless the accommodation will impose an undue hardship.
Requests for reasonable accommodations should be directed to Ruthie Taylor @
[email protected]
By bidding on any item, the bidder accepts the auction terms.
I appreciate your interest in this auction.
Benny Taylor CAI AARE CAGA
Taylor Auction & Realty, Inc.
Announcements in the form of updated terms posted on the website will take precedence over any previously viewed terms at registrations, previous material, or any other oral statements. Please view the terms periodically for any changes.